CROSS FIT & FUNCTIONAL TRAINING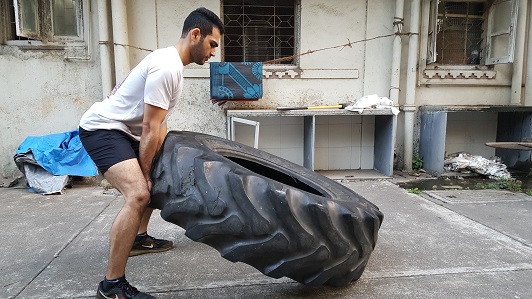 Introduction
Cross fit and functional training prepares the body for various forms of activity and conditions the nervous system to move in movement patterns that translate directly to life, work and sport situations; in addition to aiding postural alignment, balance and coordination.

Every single workout regime will challenge an individuals mental ability, physical fitness and encourage team spirit and camaraderie. His class is a complete circuit of cross fit, functional training, bootcamp, cardiovascular endurance, muscular conditioning, core stability and plyometrics.
Benefits of Crossfit and functional Training?
1. Ideal training for beginners and pro atheletes because it emphasizes multiplanar and multi-joint movements involving power, strength and stability.
2. Increases the ease of everyday life.
3. Increases flexibility and coordination.
4. Improves balance and posture.
5. Greater Muscle Memory.
6. Helps with joint pain.
7. Reduces the risk of injury.
8. Promotes fat-loss and lean muscle mass.
9. Improved cardiovascular and muscular endurance.
Your Fitness Trainer

Rohaan Shroff, has trained himself for Karate and self defence under the guidance of his father and mentor SHIHAN JEHANGIR SHROFF, 6th Dan Black Belt, President and Chief Instructor of Yudansha Kobujitsu Karate Doh Federation (India).
Rohaan, is a certified 3rd Degree Black Belt from World Karate Federation (WKF), Yudansha Kobujitsu Karate-Doh Federation (India) and Karate Association of India (KAI).
He is also a certified 1st Degree Black Belt in Judo from the Judo Federation of India (JFI).
His love for sports and fitness did not end here. He has also represented the Mumbai team for American football.
Rohaan strongly believes that being fit and healthy isn't a fad or a trend, it is a lifestyle.

Some more information will come here.